Sire:
V(BSZS) Javir vom Talka Marda SchH 3 (V-BSP, SG-WUSV), BUNDESSIEGER 08 KKL 1
Dam:
2008 USA Universal Siegerin V Ule v TeMar SchH 3 FH 1 KKL 1
Helliah is our up and coming girl. She is a sable with dark red highlights. She will bring world class working lines to our breeding program.
Helliah's hips are OFA good and her elbows are normal.
Her animation and quickness make her a dream to train. She should have a brilliant Schutzhund career. She worked hard this past Fall and obtained her CKC degrees of CD and CDX with four high qualifiying scores on the way. She also earned her IPO 1 title. We worked hard this past year and are proud of our accomplishments.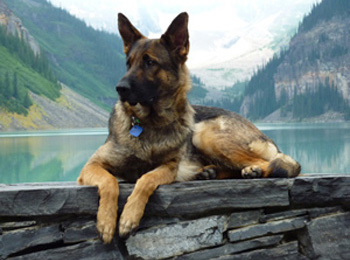 Her sire Javir is famous in the German working lines. He was the top working dog in Germany 2008
Her Dam Ule , I was so impressed with, I decided to make her the cornerstone of my breeding program and buy a second daughter of hers. This time she was bred to a working line. For a list of Ule's accomplishments go to Freya.
We would like to congratulate Hugo, (Helliah's litter mate), now a member of the Arizona State Police. Good luck Hugo. Go get em!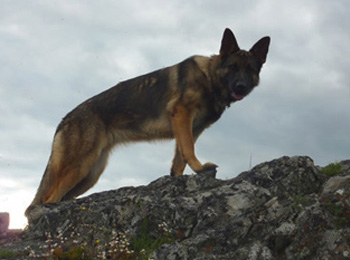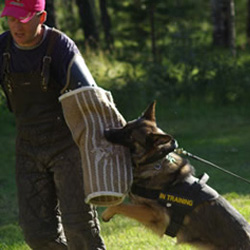 Helliah airborne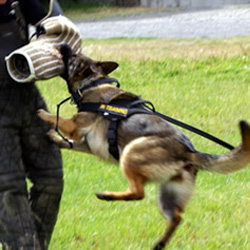 A full bite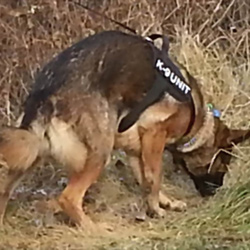 Tracking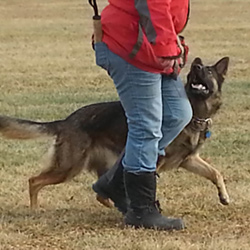 Heeling
Dogs have given us their absolute all. We are the center of their universe. We are the focus of their love and faith and trust. They serve us in return for scraps. It is without doubt, the best deal man has ever made.
~Roger Carras
QUELLEN GERMAN SHEPHERDS
(250) 398-7727 or joanne@quellen.ca
Recommend Quellen: